The way of converting the conversation between 2 or more people into a document is called transcribing interview
Now the question arises how do we transcribe an interview????
Interview transcription can be done in real-time as well as from the audio or video recording. You all must be thinking that how simple a task this is, but
many beginners often get some trouble by the tediousness of the process. It's a time-consuming process but can be simplified with practice.
Now let's talk about ways one can use for interview transcription and provide a guide to interview transcription.
Ways for transcribing an interview-:
1. 4 Methods of interview transcription.
2. How we can manually transcribe an interview.
3. Format for Interview transcription.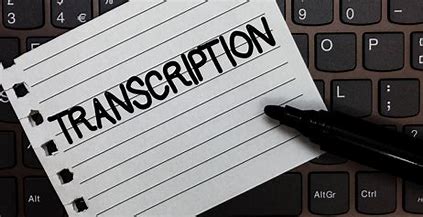 Now let's discuss the above 3 ways for Transcribing an Interview
4 Methods of  transcribing interview
Firstly, let me tell you that you don't have to do transcription by yourself. There are several ways by which you can transcribe an interview -:
# Using audio to text converting software.
# Manual transcription.
# Contacting a transcription agency.
# Hire a freelance transcript.
The method you choose to use would depend on factors like how many people are there in the recording, clarity of the audio, subject, budget and time,
and the speed of your typing.
Now it,s on you how or by which method you would like to transcribe your Interview.
# Using audio to text converting software
Audio-text converting is a good choice when there is only one speaker who is doing most of the talking. As we know that transcribing via automation
would not be perfect, means proofreading would be still necessary, but that would be much easier than transcribing the whole recording manually.
And there is a thing that not all the recorded files can be converted into transcript i.e. some are only meant for live dictation.
# Manual transcription
If there are two or more than two speakers in the recording then one must prefer manual transcription over audio-to-text transcription because
audio-to-text converters are not capable of transcribing a recording of multi-speaker accurately.
# Contacting a transcription agency
When the recording is not in the language you understand or if you don't have enough time to transcribe the interview by yourself, then contacting a transcription agency is a good idea. All you have to do is to send them the recording you want to transcribe with all the detail
instructions and they will return it in a short period with a neat format.
# Hire a freelance transcript
When you don't have sufficient money or you can't find the service at an affordable price, then the best option is to take service from a freelance transcriptionist. Many sites have a great pool of service providers like Freelancer.com, Fiverr.com, and Guru.com. The best part of hiring a freelancer is that they will do work at a cheap rate within almost the same period as a transcription agency. The drawback of this
is that it can take some time to find the right transcriber.
How we can manually transcribing interview
Honestly, it is a kind of work that consumes so much time, but it's possible. Mentioned below are steps USO=ING which one can use to transcribe an interview manually-:
# Before starting transcribing listen to the full recording once or twice.
# Calculate the time i.e. how long it will take.
# select the right tools.
# Draft transcription.
# Use shortcuts to decrease time consumption.
# Proofreading
# Find and replace the place holding texts.
# Neatly format the transcript.
Format for transcribing interview
* Write the name of personalities, time, and date of the recording.
* Use the foot pedal to stop and start your tape as mostly there are questions and answers in the interview.
* Whenever the interviewee makes a new idea insert a paragraph.
* Start editing your transcript like abbreviations and punctuations.
* Correct grammatical mistakes in your final copy.
transcribing interview is a very time-consuming task but with that interesting also as doing this can increase your vocabulary
24x7offshoring.com – Your vision.. Our process