I'm increasingly coming across blog entries that are nothing more than a video Transcription with little to no written information. As video blogging becomes increasingly popular, I think this is a good moment to look at four reasons why video transcription, rather than simply the video itself, should be included in blog posts or pages.
Here are the major reasons for that you need video transcription
Visitors using mobile devices may be unable to view the videos with video transcription.
With the growth of smartphone usage, an increasing number of individuals are starting to browse blogs online, many of them are doing so while checking Facebook, Twitter, or email and clicking on links or following links from other blog postings.
Even while many smartphones can download tiny movies from sites like YouTube, certain video sites are not mobile-friendly, and the video will not appear at all. Alternatively, the video may be big, or the mobile user may be in an area with poor service, preventing the movie from being entirely downloaded.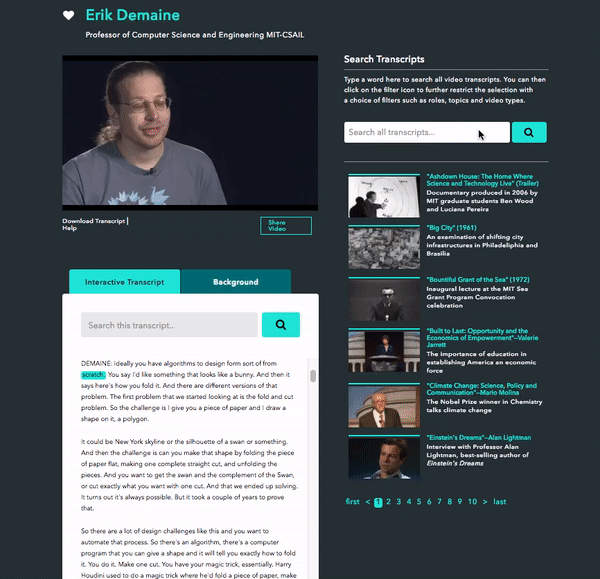 In any case, adding a video transcription would make reading the content of the movie easier for the mobile browser.
It's possible that visitors won't be able to hear the videos can see video transcription.
Many visitors to your blog, such as mobile users who can't listen with the volume turned up or individuals at work who don't have headphones or speakers, may not be able to listen to the video post. In these situations, a video transcription would be incredibly beneficial so that people can understand the substance of the article.
It's possible that visitors won't have time to see the video.
Unfortunately, many people are constantly in a hurry, and they want the material to be quick and easy to consume. If they come across a post with a 10-minute video that they don't have time to watch, the best-case scenario is that they may bookmark it for later viewing; but, if they can find similar content elsewhere, they will most likely go on and lose out on what you have to offer.
By providing a video transcription, the visitor will be able to read portions of the material and then determine if it is worth spending time on now or later, or at the very least be certain that it is something worth commenting on or sharing with others.
Additional SEO Value from Transcripts
Search engines like pages with a lot of text and smart keyword usage since they have more stuff for the crawlers to index. There isn't much information for the crawlers to utilize to assess the worth of your page if your post or page simply has a video. This information may simply be provided by a video transcription, which will help the website rank higher in search engines.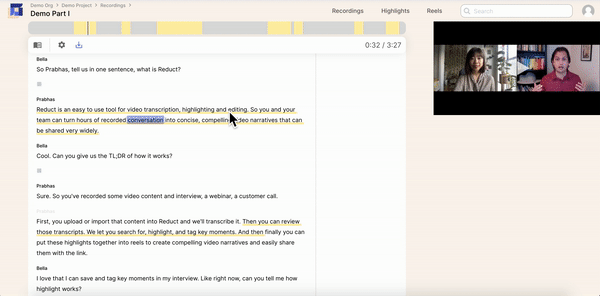 Why Aren't Transcripts Included?
Despite the apparent advantages of adding transcripts with videos, there are three main reasons why individuals do not do so.
They want to increase the number of people who watch the video and/or the video is long.
What if you want a video with many views, or if the movie is just too long to completely document with text? To address both problems while still receiving the benefits of having a transcript, provide a summary rather than word-for-word evidence.
The video is either a presentation, a demonstration, or a tutorial.
What if the video is a presentation, lesson, or demonstration rather than just a discussion? The Market Samurai software site has several excellent instances of video + presentation type transcripts. You may either watch the 8-minute video or scroll down to read the video transcription, which contains PowerPoint slide pictures and instructive text summarising the key points.
There is no text in the video.
What about presentations of photographs, natural scenes, or other films with no dialogue? The transcript might simply be a play-by-play account, such as a description of each snapshot or a notation of a specific incident occurring at a specific point in the movie.
Recommendations for Video Transcripts
Are you looking for a way to get the most out of your video transcription? Simply follow these basic guidelines to improve your transcripts for both visitors and search engines.

Make good formatting choices.
If correct formatting is not utilized, transcripts, like large articles, might appear overpowering. To make the transcript readily browsable and accessible, remember to use headings to split up parts, bolding or italicizing to highlight key points, and so on.
Keywords should be included
For the greatest search optimization and to assist visitors to discover the content they want the most, add the most valuable keywords and keyword phrases that reflect your video in headers and bold text.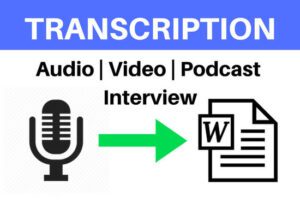 Blog Posts and Pages aren't the only things you can do with your blog.
Have you thought of providing a short video transcription on video-sharing sites like YouTube and Vimeo? Even though YouTube hides the description, it is still present in the source, providing some text for SEO purposes as well as information for video viewers who may be interested enjoy the film and wants to learn more (ie. a perfect opportunity to include a link to your website, Twitter, or other social media accounts).
Kuroshio Sea – a movie of the world's second-biggest aquarium – is one of my favorites since it includes viewing suggestions, more information about the subject, and connections to their website.
I'm certain that some of the 1.7 million views were enough to encourage people to visit his site and follow him on Twitter, even if the links were not followed.
<h2>What Are Your Opinions on Video Transcripts?</h2>
Do you make transcripts available for your videos on your website, blog, or YouTube channel? Have you seen a difference in SERPs between articles or pages without a transcript? What are the additional advantages you see in incorporating text-based video transcription?
To Read more article, just click on: https://24x7offshoring.com/blog/