Important things About Natural Language Processing Services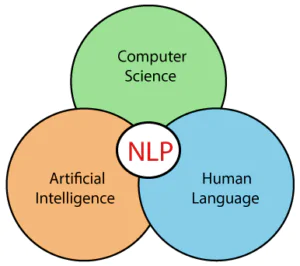 When we talk in a natural way, computers a are often unable to understand us. They speak via Natural Language Processing, which consists of lengthy lines of ones and zeros.
We, on the other hand, are more sophisticated, speaking in a range of tones and deploying irony and phraseology.
Humans and machines appear to be unable to communicate effectively. They have, however, already done so, as we all know. On a regular basis, computers reply to our search terms and even spoken commands.
What is Natural Language Processing (NLP) and how does it work?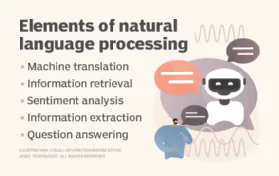 Natural Language Processing (NLP) is a type of artificial intelligence that helps computers understand, interpret, and manipulate human speech.
NLP, often known as 'text analytics,' helps machines understand what people write or say in a conversation.
It uses techniques like audio to text conversion to help computers understand human speech. It also enables us to control a variety of systems via voice commands.
If you sell items or give knowledge on the Web, Natural Language Processing, or NLP, as it's called among techies, can help you match your clients' purpose with the content on your site.
Natural Language Processing's Importance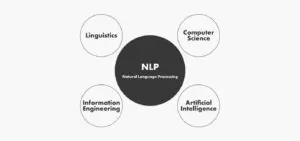 Customers expect to put a phrase, or even an idea, into a search box and obtain personalised results that are closely linked to what they were looking for in the era of Google and other search engines.
Because of its speed and scope, it's the type of interaction that can't be sustained by individuals alone.
Doing the right thing by customers, on the other hand, demands technology and systems that are constantly learning and developing insights into what consumers mean and want.
It's a lofty task for businesses selling products or delivering Web content, but natural language processing can assist. For organisations that want to deliver on time and for every user, Natural Language Processing is a must-have.
NLP is a powerful machine-learning method that helps firms obtain a competitive edge by augmenting human teams.
It's a system that learns how to provide customers a memorable and enjoyable experience by recognising:
Demand: It is the term used to describe consumer intent, including the synonyms they use.
Supply: Merchants' descriptions of products in all of their many forms.
8 Important blogs Natural Language Processing You Much follow
1. Awesome-NLP (https://github.com/keon/awesome-nlp)
Keon Kim, Martin Seongsoon Park, Nirant Kasliwal, and Dhruv Dhruv Dhruv Dhruv Dhruv Dhruv Dhruv Dhruv D Apte GitHub is a website that you may visit. This is a comprehensive, selected list of
Natural Language Processing resources that anybody working in the analytics industry may find beneficial.
It contains the most recent research, trends, and recorded NLP achievements from conferences such as the annual Association for Computational Linguistics or Empirical Methods in Natural Language Processing.
2. Deep Learning for Natural Language Processing is Fantastic! (https://github.com/brianspiering/awesome-dl4nlp)
Brian Spiering is in charge of the operation. GitHub is a website that you may visit. A Professor of Computer Science / Data Science at the University of San Francisco curates another useful resource repository on GitHub, with a focus on research and university courses from Stanford, Carnegie Mellon, and Oxford.
A strong emphasis is placed on the Deep Learning part of NLP, which refers to the class of machine learning algorithms that may be employed for Natural Language Processing. There are tutorials, seminars, research articles, as well as an extensive array of Deep Learning books, frameworks, and datasets.
more like this, just click on: https://24x7offshoring.com/blog/
3. Course on Natural Language Processing (https://www.youtube.com/playlist?list=PLoROMvodv4rOFZnDyrlW3-nI7tMLtmiJZ)
Dan Jurafsky and Chris Manning are in charge of the operation. YouTube.com is the website address. The popular Natural Language Processing course offered by Stanford academics Dan Jurafsky and Chris Manning in 2012 is captured in this video series.
The course was one of Coursera's original 20 offerings, however, it is now archived on Stanford Online's YouTube channel, with the lecture slides available on Dan Jurafsky's Stanford website. Content that is related: Jurafsky has a YouTube account where he posts recordings from his Stanford classes.
4. NLPers (https://twitter.com/jasonbaldridge/lists/nlpers)
Jason Baldridge is in charge of the operation. Twitter.com/JasonBaldridge/lists/NLPers http://twitter.com/JasonBaldridge/lists/NLPers Jason Baldridge, a research scientist working on NLP at Google Mountain View, created this Twitter list of some of the who's who in Natural Language Processing.
Subscribe to this list using your Twitter account to receive notifications of new postings from scientists working in the field. While following a feed with over 850 individuals may seem daunting, you'll find the most relevant accounts that fill in knowledge gaps, provide important information, and motivate you to keep studying.
5. NLP Stories (https://twitter.com/nlp_stories)
Martin Seongsoon Park is in charge of the operation. Twitter.com/nlp_stories are the URL for the website. Other Twitter accounts for Natural Language Processing news might be found here. NLP Stories, a Twitter account managed by a contributor to the GitHub repository "awesome-NLP," retweets stories on Natural Language Processing, Deep Learning, and Artificial Intelligence.
6. NLP Highlights (https://soundcloud.com/nlp-highlights)
The project is overseen by the Allen Institute for Artificial Intelligence. Soundcloud: https://soundcloud.com/NLP-Highlights This podcast, produced by the Allen Institute for Artificial Intelligence, explores recent NLP research.
Matt Gardner and Waleed Ammar, two research scientists, examine fascinating NLP articles and then interview the authors about their work. It's on Soundcloud, so you can listen to it from anywhere.
7. r/Language Technology (https://www.reddit.com/r/LanguageTechnology)
Reddit is in charge of the site. Reddit.com/r/LanguageTechnology is a website where you can learn more about language technology. This is another social networking site with useful Natural Language Processing material.
When it comes to specialized interest, smaller, technical subreddits perform well, and you may start a wonderful conversation with people in the area or uncover fresh knowledge given in links.
8. The Natural Language Processing Group at Stanford (https://nlp.stanford.edu/blog/)
Stanford University is in charge of the project. NLP.Stanford.edu is the website address. Dan Jurafsky and Chris Manning, who taught Stanford's famous Natural Language Processing course, as well as professor Percy Liang, lead the Stanford Natural Language Processing Group.
Continue Reading, just click on: https://24x7offshoring.com/blog/